Hey,
So last night we went for a BLAP Caracal roam around NullSec and basically didn't find anything. At all. For 2 hours.
Form up took longer than expected because we had some newbros arrive for their first fleet. Not an issue at all, we got them in ships and went on our merry way. Initially we were very light on support ships with only 2 logi, 2 fleet tackle and our newbros, but over the course of the fleet people joined and we made it up to 4 scouts at one point, all roaming and diving off into every pocket and side system they could.
The route selection was from PC9 in Syndicate, out via A-S into Cloud Ring. Whilst in Cloud Ring we had sight of a 12 man AF fleet, however they could out run us and were travelling in opposite direction, meaning we couldn't catch them up. There were a couple of ratting VNIs that we couldn't grab as we didn't have probes and that was about it. I thought about carrying on into Fade to see if we could bait a response fleet in the C4C pocket, however intel suggested a 40 man Ishtar fleet in the direction, so we heading down via Black Rise back to Syndicate and called it a night.
I can't say I paid much attention when I booked the fleet, just went for my usual 1800 EU weekday time slot. Turns out last night just happened to be England vs Colombia, during UK prime time. Could have had something to do with the quietness of space.
Mentioning it in the FCC, Raido lovingly crafted this map of Cloud Ring to get a better idea of where to poke for a fight.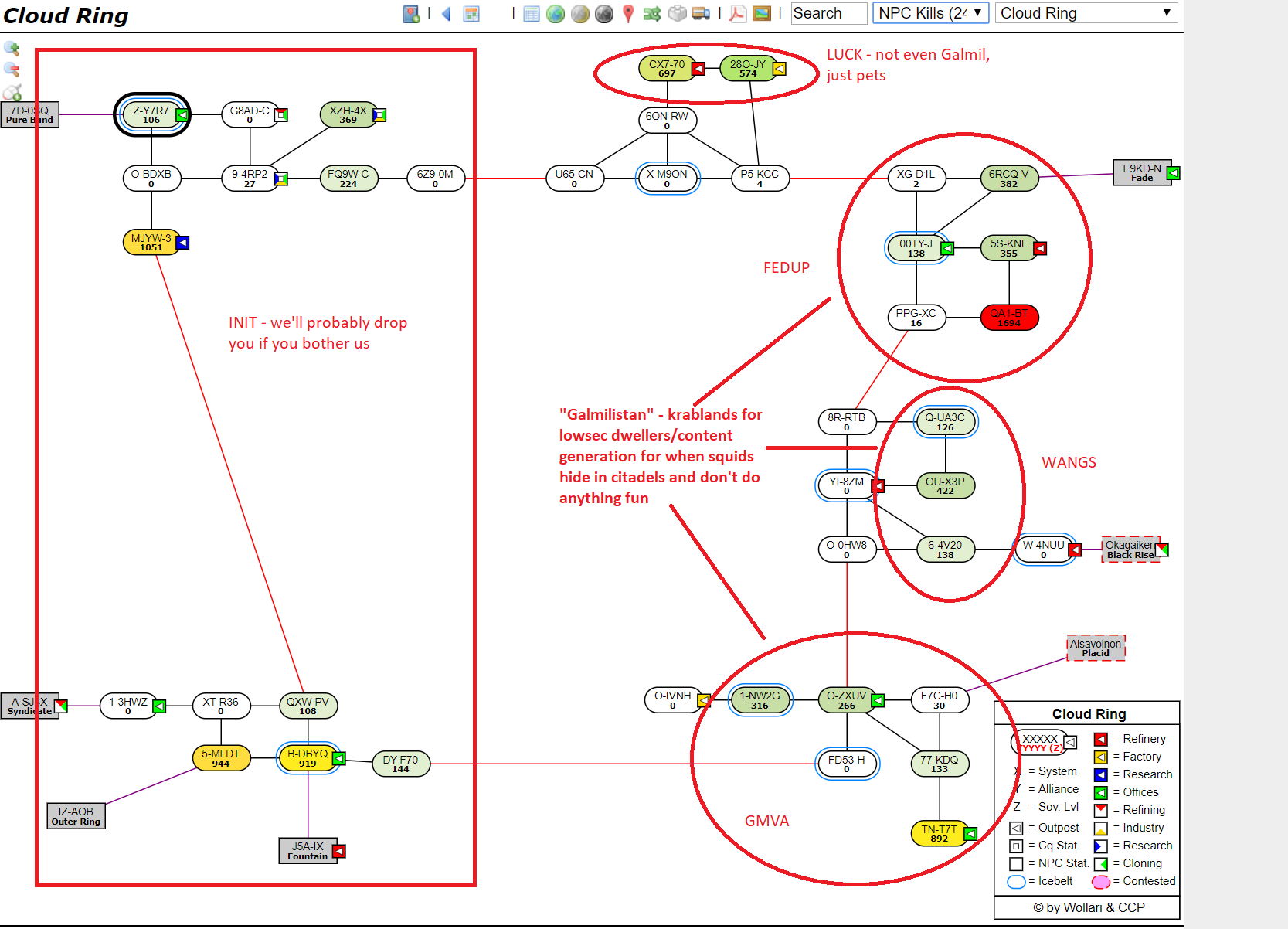 If anyone has any other suggestions for where to roam into Sovnull from the NSC, it would be appreciated. From what was said last night in the FCC, Pure Blind may be a better option.
Thanks for last night guys. Shame we couldn't find anything.
Sorry to those who felt I wasted their evening.