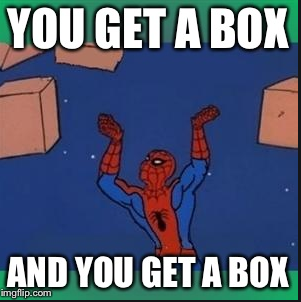 When:
Saturday 15/02/2020 @20:00
Form up location:
Amygnon
Mumble :
Private mumble
So whats a box tournament?:
Well it could be many things but in this case will be 4 teams of about 7 players in each team. we will then pit teams against each other and see who is left standing.
where the box comes from is I will give each team an assortment of ship hulls and the team captain will receive this a week prior to the event starting. then you got to put on your thinking hats and make some fits.
Run down leading to event:
People Post in this thread indicating what team they would like to be on "example: x amarr" if interested in being team captain please indicate that as each team will need a captain, note the fc does not have to be the captain
I will update the team list every few days
one week give or take before the event is due to start I will give an assortment of ships to the team captain and some isk to help with getting modules
You then talk with your fellow team mates about fits that you would like to use "totally fine to wing it and go kitchen sink thats up to you also"
Then show up Saturday 15/02/2020 @20:00 for the Event
What ship hull's might be in the box?
This Box tournament shall be a focus on
frigates
If this goes well then the following one I will mix up the box alot more.
Prize's:
I am in two minds at moment for prize's while id like to sprinkle some prize's to the winners i really want there to be a focus on just having fun and a bit of a laugh for this event.
Rules:
Must use the ship hulls provided
Faction modules are not permitted - must be t1/meta/t2 mods
faction ammo/drones is ok
Warping off counts as forfeit
Spectators Should have a cloak if they want to be on grid and watch.
Teams:
Amarr
1: Pink Kondur
2: London 1941
3: Conci Furiram
4: Hajime Lalapalooza
5: Dexyr Sulvara
6: Brock Carlisle
7:
Team captain: Brock Carlisle
Caldari
1: KPYTOE KOPOBO
2: Ares Dodekatheon
3: Waruiru
4: Milspecc
missing in action has been tied down and kidnapped for the weekend
5: Esjay Kuovo
replaced by silentbrick
6: Feras Dawod
7: Vorkan Dosja
Team captain: Waruiru
Gallente
1: Biwako Acami
2: YooJin Moon
3: Drebin 679
Cant make it
4: Anidien Dallacort
5: Varris Thellere
6: Larkvi
7: Rusting
Team captain: YooJin Moon
Minmatar
1: Ch4rl13 D4M3 B3rry
missing in action
2: Falling Snow KumaMoto
3: Locke Gogiko
4: Hooguro
5:
Finzel
is unavailable on saturday
6: Mekhar
7: Turlough Dominian
last min addition to help boost numbers and help
Team captain: Ch4rl13 D4M3 B3rry
Retired Assistant Personnel Manager,Retired Director of special projects, Retired Assistant Guidance Manager, Retired Events Manager,Retired senior Personnel Officer
Graduate,