To Chribba and back again an unexpected journey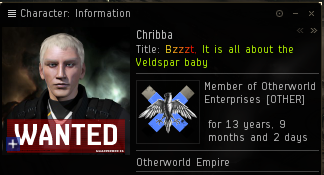 One of eve online's most famous pilots
"Chribba "
who most of us should know is coming out to play and chat on the 15th of march for e-uni's anniversary, For those who may not know him I have digged up an very old post from 2013 that should give a nice summary of how awesome this man is <3
https://www.gameskinny.com/34krz/eve-player-celebrities-the-icon-chribba
I want to give special thanks to
Danielle en Divalone
the CEO of Licence To Kill and part of Mercenary Coalition who I would consider at this stage a long term friend over the years who really helped make this possible by getting in contact with Chribba for us and express our desire to meet up with him again.
Date:
March 15th Thursday
Time:
16:15 for form up and departing at 16:35 so try show up early please, late comers welcome but will have to play catch up
Form up:
Amygnon - HSC camp
Destination:
HI-sec
Communication:
For mumble we will use the private server for traveling then hop on over to the public one when we arrive at our destination.
"Added"
Ingame channel will be:
Lecture.E-UNI
Doctrine for this event/fleet:
You will notice on the fits i have sneaked in a festival launcher or two
will be nice to shoot some fireworks at our guest.
Wiki page:
https://wiki.eveuniversity.org/Longbow_Cormorants
Cormorant, *Longbow Alpha
[Cormorant, *Longbow Alpha]
Magnetic Field Stabilizer II
Tracking Enhancer II

Alumel-Wired Enduring Sensor Booster
Alumel-Wired Enduring Sensor Booster
5MN Y-T8 Compact Microwarpdrive

150mm Prototype Gauss Gun
150mm Prototype Gauss Gun
150mm Prototype Gauss Gun
150mm Prototype Gauss Gun
150mm Prototype Gauss Gun
150mm Prototype Gauss Gun
Festival Launcher
Festival Launcher

Small Hybrid Locus Coordinator I
Small Hybrid Locus Coordinator I
Small Ancillary Current Router I




Targeting Range Script x5
Caldari Navy Iron Charge S x241
Federation Navy Antimatter Charge S x2240
Scan Resolution Script x2
Nanite Repair Paste x25
Federation Navy Iron Charge S x5000
"omega" Cormorant, Longbow Newbro
[Cormorant, *Longbow Newbro]
Magnetic Field Stabilizer II
Tracking Enhancer II

Alumel-Wired Enduring Sensor Booster
Alumel-Wired Enduring Sensor Booster
5MN Y-T8 Compact Microwarpdrive

150mm Prototype Gauss Gun
150mm Prototype Gauss Gun
150mm Prototype Gauss Gun
150mm Prototype Gauss Gun
150mm Prototype Gauss Gun
150mm Prototype Gauss Gun
150mm Prototype Gauss Gun
Festival Launcher

Small Hybrid Locus Coordinator I
Small Hybrid Locus Coordinator I
Small Ancillary Current Router I




Federation Navy Antimatter Charge S x2000
Caldari Navy Iron Charge S x281
Targeting Range Script x2
Scan Resolution Script x2
Nanite Repair Paste x25
Federation Navy Iron Charge S x5000
"Omega" Cormorant, *Longbow Mainline
[Cormorant, *Longbow Mainline]
Magnetic Field Stabilizer II
Magnetic Field Stabilizer II

5MN Y-T8 Compact Microwarpdrive
F-90 Compact Sensor Booster
Sensor Booster II

150mm Railgun II
150mm Railgun II
150mm Railgun II
150mm Railgun II
150mm Railgun II
150mm Railgun II
150mm Railgun II
Festival Launcher

Small Hybrid Locus Coordinator I
Small Ancillary Current Router I
Small Hybrid Locus Coordinator I




Targeting Range Script x2
Spike S x5000
Scan Resolution Script x2
Nanite Repair Paste x25
Caldari Navy Antimatter Charge S x1500
I know this is on a Thursday and won't be viable for a good few people but if you can/able please do come along and give Chribba a good show of love
Retired Assistant Personnel Manager,Retired Events Manager, Retired Assistant Guidance Manager,
Senior Personnel Officer
Graduate,